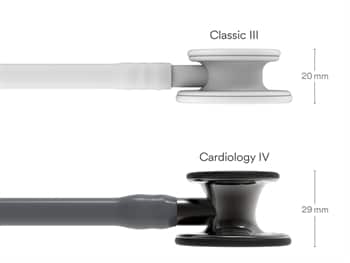 ---
We're always being asked "Which stethoscope is the best?" and "What's the difference between the Littmann Classic III and the Littmann Cardiology IV?" With a variety of stethoscope models to choose from, all with different specifications and coming it at different price points, it's understandable why the answers to these questions are important to students and healthcare professionals. In this article, we will try to compare the differences between the different models of Littmann stethoscopes so you can decide which is best for you.

The Littmann brand produces the most well-known and trusted stethoscopes. From affordable options such as the Littmann Lightweight II SE, all the way up to the uncompromised performance of the Littmann Core Digital, there is a stethoscope to suit the wide-ranging needs of all the healthcare professions.

The Littmann Lightweight II SE is Littmann's entry-level stethoscope. It doesn't offer any of the frills of the Classic III or Cardiology IV, but still gets the job done. If you're on a tight budget, then this is the stethoscope for you.

Most healthcare professionals will be familiar with the Littmann Classic III as a reliable and long-lasting stethoscope. The Littmann Classic III offers similar features to that of higher end cardiology stethoscopes without breaking the bank. The Classic III has undergone numerous refinements and upgrades over the years. Perhaps one of the best refinements over the years has been the improved tubing and the introduction of a thicker double lumen-single tube design, giving it the feel of a Cardiology. The Littmann Classic III is the stethoscope we recommend to students – it provides the perfect compromise between acoustic sensitivity and price.

A step up from the Classic III, the Littmann Cardiology IV offers better acoustic sensitivity – the audibility of high-frequency sounds is improved. It's double-lumen tubing ensures that you do not get the rubbing noise of single lumen tubes as to sound paths are combined within one tube. The Littmann Cardiology IV was designed so that physicians and specialists can diagnose patients and make clinical decisions with confidence. Due to the advanced technology it uses, it comes in at a higher price point than the Classic III. We would recommend the Littmann Cardiology IV to doctors and healthcare professionals in critical care environments who would benefit from being able to hear subtle changes in a patient's status.

The Littmann Electronic Stethoscope has now been superseded by the Littmann Core Digital Stethoscope. The Littmann Core Digital Stethoscope is Littmann's most advanced stethoscope and offers noise cancelling, 40x amplification and in-app sound wave visualisation. We would recommend this stethoscope to specialists who require absolute accuracy when listening to patients, those who are teaching as the stethoscope provides a recording function and any healthcare professional that wants to show off with the latest tech:)